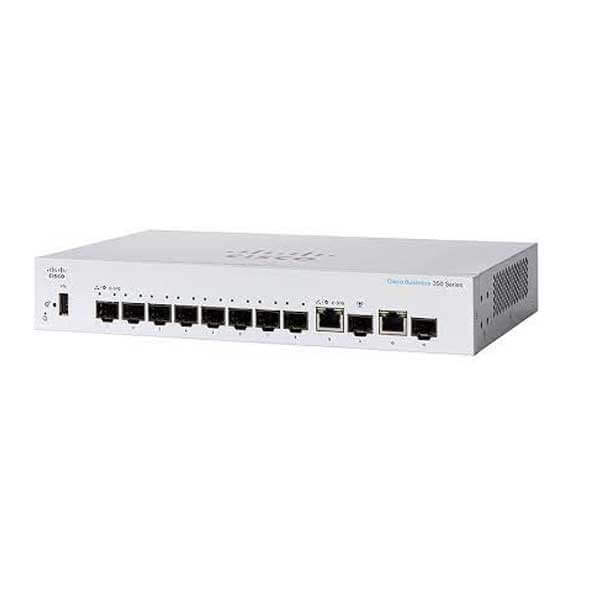 Switch Cisco Business 8 Port (CBS350-8S-E-2G-EU)
Thiết bị chuyển mạch Cisco Business 10/100/1000 Mbps CBS350-8S-E-2G-EU phù hợp sử dụng cho các doanh nghiệp vừa và nhỏ.
Performance
Capacity in Millions of Packets per Second (64-byte packets)
14,88 Mpps
Switching Capacity in Gigabits per Second
20 Gbps
Layer 2 Switching

Spanning Tree Protocol
Port grouping/link aggregation
- Up to 8 groups
- Up to 8 ports per group with 16 candidate ports for each (dynamic) 802.3ad link aggregation​VLAN
- Support for up to 4,094 VLANs simultaneously
- Port-based and 802.1Q tag-based VLANs; MAC-based VLAN; protocol-based VLAN; IP subnet-based VLAN
- Management VLAN
- Private VLAN with promiscuous, isolated, and community port
- Private VLAN Edge (PVE), also known as protected ports, with multiple uplinks
- Guest VLAN, unauthenticated VLAN
- Dynamic VLAN assignment via RADIUS server along with 802.1x client authentication
- CPE VLAN
Voice VLAN
Multicast TV VLAN
VLAN Translation
Q-in-Q
Selective Q-in-Q
Generic VLAN Registration Protocol (GVRP)/Generic Attribute Registration Protocol (GARP)
Unidirectional Link Detection (UDLD)
Dynamic Host Configuration Protocol (DHCP) Relay at Layer 2
Internet Group Management Protocol (IGMP) versions 1, 2, and 3 snooping
IGMP Querier
Head-of-Line (HOL) blocking
Loopback DetectioN

Layer 3

IPv4 routing
- Wirespeed routing of IPv4 packets
- Up to 990 static routes and up to 128 IP interfaces
IPv6 routing
Layer 3 Interface
- Configuration of Layer 3 interface on physical port, Link Aggregation (LAG), VLAN interface, or loopback interface
Classless Interdomain Routing (CIDR)
Policy-Based Routing (PBR)
DHCP Server
DHCP relay at Layer 3
User Datagram Protocol (UDP) relay

Stacking
- Up to 4 units in a stack
- High availability, Fast stack failover delivers minimal traffic loss
Security

Secure Shell (SSH) Protocol
Secure Sockets Layer (SSL)
IEEE 802.1X (Authenticator role)
Web-based authentication
STP Bridge Protocol Data Unit (BPDU) Guard
STP Root Guard
STP loopback guard
DHCP snooping
IP Source Guard (IPSG)
Dynamic ARP Inspection (DAI)
IP/MAC/Port Binding (IPMB)
Secure Core Technology (SCT)
Secure Sensitive Data (SSD)
Trustworthy systems
Private VLAN
Layer 2 isolation Private VLAN Edge (PVE) with community VLAN
Port security
RADIUS/TACACS+
RADIUS accounting
Storm control
DoS prevention
Multiple user privilege levels in CLI
ACLs Support for up to 1,024 rules

Management

Web user interface
SNMP
Remote Monitoring (RMON)
IPv4 and IPv6 dual stack
Firmware upgrade
Port mirroring
VLAN mirroring
DHCP (options 12, 66, 67, 82, 129, and 150)
Secure Copy (SCP)
Autoconfiguration with Secure Copy (SCP) file download
Text-editable config files
Smartports
Auto Smartports
Textview CLI
Cloud services
Embedded Probe for Cisco Business Dashboard
Cisco Network Plug and Play (PnP) agent
Localization
Login banner
Other management

Power consumption
System Power Consumption
110V=11.1W
​220V=11.9W
Power Consumption (with PoE)
N/A
Heat Dissipation (BTU/hr)
40.6
Hardware
Total System Ports
8 x Gigabit SFP Slots
​2 x Gigabit copper/SFP combo ports
Combo Ports(RJ 45 + Small form-factor pluggable [SFP])
2 x Gigabit copper/SFP combo ports
Console port
Cisco Standard RJ45 console port
USB slot
USB Type-A slot on the front panel of the switch for easy file and image management
Buttons
Reset button
Cabling type
Unshielded Twisted Pair (UTP) Category 5e or better for 1000BASE-T
LEDs
System, Link/Act, PoE, Speed
Flash
256 MB
CPU
800 MHz ARM
Packet buffer
1.5 MB
Environmental
Unit dimensions (W x H x D)
280 x 170 x 44 mm (11.0 x 6.69 x 1.73 in)
Unit weight
1.0 kg (2.20 lb)
Power
100-240V 50-60 Hz, internal, universal
Certification
32° to 122°F (0° to 50°C)
Storage temperature
-13° to 158°F (-25° to 70°C)
Operating humidity
10% to 90%, relative, noncondensing
Storage humidity
10% to 90%, relative, noncondensing
Acoustic noise and Mean Time Between Failure (MTBF)
FAN 
Fanless
Acoustic Noise
N/A
MTBF at 25°C (hours)
2,242,229
Download thông số kỹ thuật Switch Cisco 8 Port CBS350-8S-E-2G-EU

Liên hệ kinh doanh để được báo giá tốt nhất: 0912131739
Bộ sản phẩm gồm: Cáp nguồn, Nguồn, L lắp tủ rack

Bộ sản phẩm gồm: Cáp nguồn, Nguồn, L lắp tủ rack

Bảo hành chính hãng 12 tháng.
1 Đổi 1 trong vòng 1 Tuần nếu lỗi do nhà sản xuất.
Đặt mua Switch Cisco Business 8 Port (CBS350-8S-E-2G-EU)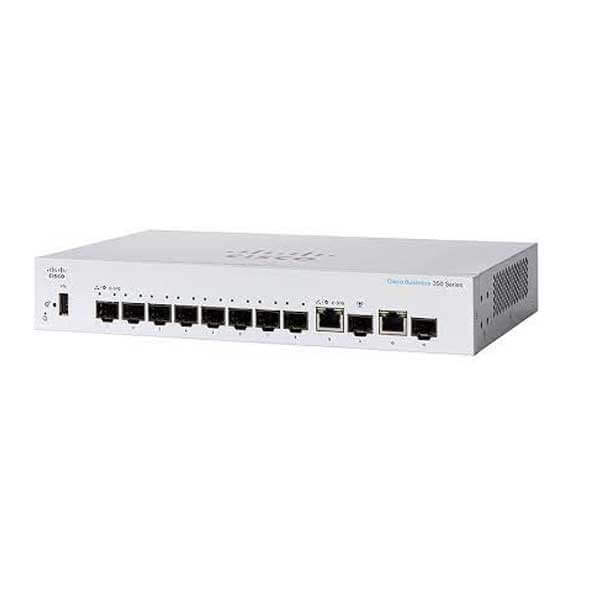 Switch Cisco Business 8 Port (CBS350-8S-E-2G-EU)
8.990.000

₫
Bạn vui lòng nhập đúng số điện thoại để chúng tôi sẽ gọi xác nhận đơn hàng trước khi giao hàng. Xin cảm ơn!